25% off unlimited play until Halloween next year!
Celebrate the holiday - for an entire year! Get 25% off an annual FunPass if you subscribe today. Take advantage now!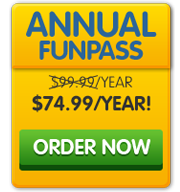 1.
Click the order button above.
2.
Enter your payment details and start playing with FunPass right away.
3.
This discount is valid during the initial subscription period of 1 year. Subsequent periods will be billed at the regular FunPass price.
http://www.gamehouse.com/promotions/template2/#l=103&p=280000069