The Agency of Anomalies: Mystic Hospital

by Orneon
Series links
:
The Agency of Anomalies 1: Mystic Hospital
,
The Agency of Anomalies: Cinderstone Orphanage
,
The Agency of Anomalies 3: The Last Performance
,
The Agency Of Anomalies 4: Mind Invasion
Available:
Big Fish Collector's Edition for PC and Mac
Big Fish Standard Edition for PC and MAC
Iwin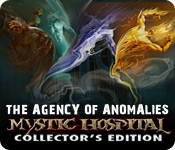 Become a special agent and investigate a  military Hospital that hosted a variety of terrifying experiments in  The Agency of Anomalies: Mystic Hospital! Discover the monstrosities  that soldiers, doctors, and nurses have been transformed into, as you  explore every single room of the hospital. Dive into this dark Hidden  Object Puzzle Adventure game and stop a dimensional vortex from  destroying the world!
The
Collector's Edition
includes:


Fantastic locations

Terrifying creatures

Explore haunted military hospitals!

For the Standard Edition:


Strategy Guide

Blog Walkthrough

Click images to enlarge



Last edited by genkicoll on Sat Dec 07, 2013 1:03 pm; edited 2 times in total