PuppetShow: The Face of Humanity
by ERS Game Studios - January, 2016
Series links
:  
PuppetShow 1: Mystery of Joyville
,
PuppetShow 2: Souls of the Innocent
,
PuppetShow 3: Lost Town
,
PuppetShow 4: Return to Joyville
,
PuppetShow 5: Destiny Undone
,
PuppetShow 6: Lightning Strikes
,
PuppetShow 7: The Price of Immortality
,
PuppetShow 8: The Face of Humanity
,
PuppetShow 9: Her Cruel Collection
,
PuppetShow 10: Bloody Rosie
,
Puppet Show 11: Arrogance Effect
Available at:
Big Fish as
Collector's Edition
/
Standard Edition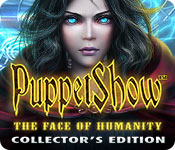 ERS Game Studios
presents another installment in the best-selling
PuppetShow
series!
The city of Saltsbruck is restless, as its citizens are being laid off, replaced with life-like puppets. But when several people are murdered and the mayor's daughter, Agnes, goes missing, the town panics and closes up! Nothing is certain when you don't know if you're dealing with humans or their puppet creations. Can you uncover who or what is causing the deadly accidents in the city and rescue the mayor's daughter in time? Solving puzzles and finding hidden objects will help lead you to the truth. Solve the mystery and find out whose heart is truly as cold as porcelain!


Learn how David and Hannah met in the bonus game!

Earn achievements and find collectible character statuettes!

Replay your favorite mini-games and HOPs!

Relive the story with movies, concept art, soundtrack, and more.

Find hidden secrets with the included strategy guide.