Grim Tales: The Vengeance
by Elephant Games - May, 2014
Series links
:  
Grim Tales 1: The Bride
,
Grim Tales 2: The Legacy
,
Grim Tales 3: The Wishes
,
Grim Tales 4: The Stone Queen
,
Grim Tales 5: Bloody Mary
,
Grim Tales 6: The Vengeance
,
Grim Tales 7: Color of Fright
,
Grim Tales 8: The Final Suspect
,
Grim Tales 9: Threads of Destiny
,
Grim Tales 10: The Heir
,
Grim Tales 11: Crimson Hollow
,
Grim Tales 12: Graywitch
,
Grim Tales 13: The White Lady
Available at:
Big Fish as
Collector's Edition
/
Standard Edition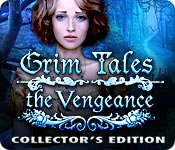 You've been summoned to court to provide testimony in a trial against your nephew James, who stands accused of murdering his sister. By using your power to learn an object's history simply by touching it, you must examine evidence from the crime scene to determine what really happened to Elizabeth. Can you prove James innocent and find the real killer? As you explore the family mansion, a dark force is trying to cover up the truth! Watch your step, or you could be next! Follow the trail and crack the case in this thrilling hidden-object puzzle adventure game!
The Collector's Edition includes:


Bonus chapter featuring a new story!

Gather evidence to present at court!

Collect figures for more story info

Use the available Strategy Guide

Get soundtracks, concept art, and wallpapers

For the Standard Edition
Click images to enlarge

_

_

Last edited by genkicoll on Thu Aug 03, 2017 8:53 pm; edited 4 times in total