Grim Tales: Bloody Mary
by Elephant Games - August, 2013
Series links
:  
Grim Tales 1: The Bride
,
Grim Tales 2: The Legacy
,
Grim Tales 3: The Wishes
,
Grim Tales 4: The Stone Queen
,
Grim Tales 5: Bloody Mary
,
Grim Tales 6: The Vengeance
,
Grim Tales 7: Color of Fright
,
Grim Tales 8: The Final Suspect
,
Grim Tales 9: Threads of Destiny
,
Grim Tales 10: The Heir
,
Grim Tales 11: Crimson Hollow
,
Grim Tales 12: Graywitch
,
Grim Tales 13: The White Lady
Available at:
Big Fish as
Collector's Edition
/
Standard Edition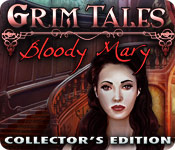 You're driving home from work when you get an urgent call from your favorite niece, begging you to pick her up from her boarding school. The teachers have gone missing, her classmates are becoming violent, and shadow creatures are haunting every corner. Search the school, but remember this one simple rule: Never look into a mirror after sunset. Bloody Mary is always watching.
The Collector's Edition includes:


Bonus game featuring Bloody Mary's origin

Downloadable wallpapers, concept art and soundtracks

Special viewing areas for achievements and collectibles

A Secret room you can make over yourself!

For the Standard Edition
Click images to enlarge

_

_

Last edited by genkicoll on Thu Aug 03, 2017 8:54 pm; edited 5 times in total