Danse Macabre: Curse of the Banshee
by
Eipix Entertainment
  - July, 2017
Series links
: 
Danse Macabre 1: The Last Adagio
,
Danse Macabre 2: Crimson Cabaret
,
Danse Macabre 3: Deadly Deception
,
Danse Macabre 4: Thin Ice
,
Danse Macabre 5: Lethal Letters
,
Danse Macabre 6: Ominous Obsession
,
Danse Macabre 7: Florentine Elegy
,
Danse Macabre 8: Curse of the Banshee
Available at:
Big Fish as
Collector's Edition
/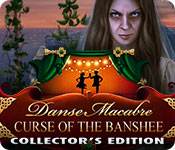 Eipix Entertainment
is proud to present the newest breathtaking addition to the
Danse Macabre
series!
It's the festival of Lunasa, and your Irish step-dancing troupe is ready to give one of your best performances yet. But your excitement is short-lived when a banshee appears and wreaks havoc on your plans! With your family in danger, and your reputation at stake, can you uncover who has it out for your troupe before it's too late? Find out in this sensational hidden-object puzzle adventure!


The luck of the O'Connors be with you and Cillian in the bonus game!

Find hidden collectibles and souvenirs for an extra challenge!

Replay your favorite HOPs & mini-games, and enjoy Match-3!

Never get lost with the strategy guide!