Danse Macabre: The Last Adagio
by Eipix - February, 2014
Series links
: 
Danse Macabre 1: The Last Adagio
,
Danse Macabre 2: Crimson Cabaret
,
Danse Macabre 3: Deadly Deception
,
Danse Macabre 4: Thin Ice
Available at:
Big Fish as Collector's Edition / Standard Edition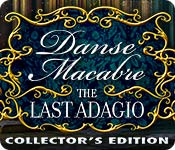 Your sister's invited you to attend the biggest performance of her life: she'll debut as Donatella di Fiore, every ballerina's dream role. She tells you to meet her after the dance but never shows up! What's happened to your sister on this fateful night?
Get into the theater and find a cast of ghosts all trying to tell you something. Some of them are better at playing music than talking, so this could take some digging on your part... Save your sister from a decades-old curse so this doesn't become her last encore.
The Collector's Edition includes:


Play the bonus game to learn how the curse was started!

Get soundtracks, wallpapers, screensavers, and concept art

Try the Strategy Guide

Play bonus puzzles!

For the Standard Edition


Strategy Guide

Walkthrough (Big Fish)

Click images to enlarge

_

_