Danse Macabre: Deadly Deception
by Eipix Entertainment - February, 2015
Series links
: 
Danse Macabre 1: The Last Adagio
,
Danse Macabre 2: Crimson Cabaret
,
Danse Macabre 3: Deadly Deception
,
Danse Macabre 4: Thin Ice
,
Danse Macabre 5: Lethal Letters
,
Danse Macabre 6: Ominous Obsession
,
Danse Macabre 7: Florentine Elegy
,
Danse Macabre 8: Curse of the Banshee
Available at:
Big Fish as Collector's Edition / Standard Edition
GameHouse as Platinum Edition /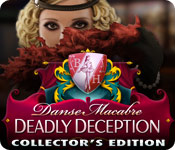 The Belfort Hall Academy of Dance is famous for transforming its students into ballet stars. But when the class star, Marion Ashworth is found dead in the school garden, shocking secrets are brought to light. It turns out the victim wasn't who she claimed to be. And if that's the case... was she, and where is the real Marion Ashworth? Examine the crime scene, interrogate the suspects, and follow the clues to find the truth. Just be careful - some secrets are worth killing for.


A bonus game for a new twist in Marion's tangled intrigue!

Get soundtracks, wallpapers, concept art

An exclusive behind-the-scenes video

Play bonus HOPs, puzzles, mini-games, and Match-3s

Try the Strategy Guide