PuppetShow: Her Cruel Collection
by ERS Game Studios - September, 2016
Series links
:  
PuppetShow 1: Mystery of Joyville
,
PuppetShow 2: Souls of the Innocent
,
PuppetShow 3: Lost Town
,
PuppetShow 4: Return to Joyville
,
PuppetShow 5: Destiny Undone
,
PuppetShow 6: Lightning Strikes
,
PuppetShow 7: The Price of Immortality
,
PuppetShow 8: The Face of Humanity
,
PuppetShow 9: Her Cruel Collection
,
PuppetShow 10: Bloody Rosie
,
Puppet Show 11: Arrogance Effect
Available at:
Big Fish as
Collector's Edition
/
Standard Edition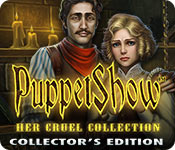 ERS Games Studios
proudly presents the newest addition to the Puppet Show series!
You've been called in to investigate the disappearance of a young woman's fiancé. What starts as a simple investigation quickly takes a dark turn as you're thrown into a world of puppets and mystery. In a world where no one is who they seem to be, can you uncover who's behind the string of mysterious kidnappings? Find out in this gripping hidden-object puzzle adventure!


Learn just how far you'd go for love in the bonus game.

Find hidden puppets to add to your collection.

Reference the in-depth strategy guide.

Strive to earn a variety of fun achievements.

Includes wallpapers, artwork, soundtrack, and replayable HOPs and mini-games.