Escape From Thunder Island
by Big Finish Games
Series links:
Escape From Thunder Island
,
Rita James and the Race to Shangri La
Available at:
Big Fish
GameHouse
iWin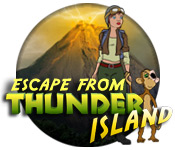 Dare the perils of a volcanic isle to rescue a missing father in Escape from Thunder Island, a light-hearted yet thrilling adventure.
Rita's father has vanished while on a faraway island and word has it that he's been abducted. Now, the braver than brilliant aviatrix is on her way to the dangerous destination and find out what happened. Will she and her courageous crew, Sebastian the mechanic and Marbles the monkey, be able to overcome jungle killers, devious traps, and flesh-eating creatures to rescue her father?
Enter a world of mystical temples and volatile volcanoes as you help Rita find her father. Collect and combine hidden items to uncover the burial grounds of a long lost civilization that may lead you to his location. Solve diabolical brainteasers while outwitting bloodthirsty beasts of the underworld. With a rousing storyline, awe-inspiring locations, and underwhelming odds of success, you'll be hooked by this humorous and action-packed adventure.


Enter a world of mystical temples and volatile volcanoes in this Hidden Object search.

Help Rita and her courageous crew find her lost father.

Enjoy five thrilling and light-hearted chapters, each one more treacherous than the last.

Collect and combine items to forge your way through 30 awe-inspiring scenes.

Solve devious brainteasers while outwitting strange creatures.

Click images to enlarge