Puppet Show: Arrogance Effect
by AMAX Interactive - July, 2017
Series links
:  
PuppetShow 1: Mystery of Joyville
,
PuppetShow 2: Souls of the Innocent
,
PuppetShow 3: Lost Town
,
PuppetShow 4: Return to Joyville
,
PuppetShow 5: Destiny Undone
,
PuppetShow 6: Lightning Strikes
,
PuppetShow 7: The Price of Immortality
,
PuppetShow 8: The Face of Humanity
,
PuppetShow 9: Her Cruel Collection
,
PuppetShow 10: Bloody Rosie
,
Puppet Show 11: Arrogance Effect
Available at:
Big Fish as
Collector's Edition
/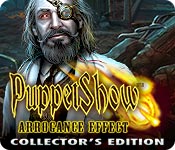 AMAX Interactive
proudly presents another adventure in the best-selling
Puppet Show
series!
A strange meteorite has crashed, and it's up to you to get the latest scoop! But your journalistic investigation is interrupted when you are mysteriously attacked and your photographer goes missing! Scour the village and mines of the town in search of answers. Will you be able to save your photographer, expose the truth, and uncover the secrets of the meteorite in time? Find out in this enigmatic hidden-object puzzle adventure game!


Expose a secret puppet society in the bonus chapter!

Tons of collectibles are hidden throughout the game!

Team up with a fantastic animated puppet companion!

Can you unlock all 15 challenging achievements?

Never get lost with the strategy guide!