Rite of Passage: The Lost Tides
by Mad Head Games - May, 2015
Series links
:
Rite of Passage 1: The Perfect Show
,
Rite of Passage 2: Child of the Forest
,
Rite of Passage 3: Hide and Seek
,
Rite of Passage 4: The Lost Tides
Available at:
Big Fish as
Collector's Edition
/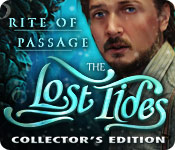 Your mom and dad set sail on the Everlast twenty years ago… and were never seen again. But today, as you prepared to observe the anniversary of their disappearance, the Everlast suddenly sailed back into port! The ship's arrival is suspicious at best, but you're determined to find out what happened to your family all those years ago. And so you set out against a host of strange sea creatures on a journey by land, air, and sea. Will you learn the truth… or will you suffer the same fate as your parents? Find out in this exciting Hidden Object Puzzle Adventure game!


Learn about the mermaid's past in the bonus game!

Track your achievements

Get wallpapers, concept art, and more!

Try the integrated Strategy Guide