Dark Parables 6: Jack and the Sky Kingdom
by Blue Tea Games - February, 2014
Series links
:
Dark Parables 1: Curse of Briar Rose
,
Dark Parables 2: The Exiled Prince
,
Dark Parables 3: Rise of the Snow Queen
,
Dark Parables 4: The Red Riding Hood Sisters
,
Dark Parables 5: The Final Cinderella
,
Dark Parables 6: Jack and the Sky Kingdom
,
Dark Parables 7: Ballad of Rapunzel
,
Dark Parables 8: The Little Mermaid and the Purple Tide
,
Dark Parables 9: Queen of Sands
Available at:
Big Fish as
Collector's Edition
/
Standard Edition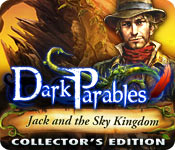 The legendary Sky Kingdom suddenly appears and a destructive barrage is unleashed upon an unsuspecting town. Play as the Fairytale Detective and embark on an investigation to rescue the townspeople. In this quest, you will meet Jack - an infamous treasure hunter who shares a secret past with the Kingdom - and discover the tragic history behind the chaos.
The Collector's Edition includes:


Uncover the legendary Sky Kingdom

Adventure with Jack to rescue his fiancée

Breath-taking storyline and challenging gameplay

Bonus Gameplay – Rumpelstiltskin

Expertly crafted wallpapers and more!

For the Standard Edition
Click images to enlarge

_

_

Last edited by genkicoll on Sat May 23, 2015 4:21 pm; edited 4 times in total