Island Tribe 4
by Realore - November, 2012
Series links
:
Island Tribe 1
,
Island Tribe 2
,
Island Tribe 3
,
Island Tribe 4
,
Island Tribe 5
Available at:
Realore
Big Fish for
PC
GameHouse
iWin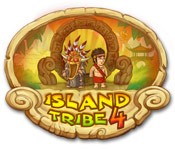 Islanders are here again! Become the part of the new adventures! Help the shaman get his true appearance back!
After all the misfortunes the islanders are finally happy. They saved the Chief's stolen bride and celebrated the wedding. They even made friends with the evil shaman. It turned out that the shaman was in fact a pirate who was cursed after finding a shaman's mask. The desperate pirate told the story of his miseries and asked the islanders for help.
Find the altar that can help the pirate get rid of the curse! Travel through time with the brave islanders! Help the residents of Ancient Egypt, Scandinavia and China!


3 season-themed episodes

Detailed graphics

Save the beautiful sisters!

Click images to enlarge