Eternal Night: Realm of Souls
by and available:
Namco
Also available at:
Big Fish for
PC
Iwin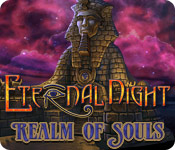 Rescue Egypt from darkness!
When the sun sets on ancient Egypt for seven long days, the Pharaoh calls on a hero to reopen the passage to the Land of the Dead to face the gods themselves! As the Chosen One, explore ghostly underworlds and sunken temples on your search for relics and clues! Employ alchemy and spells as you solve intricate puzzles composed in stars, ancient hieroglyphics, and more in
Eternal Night: Realm of Souls
!
Click images to enlarge