Nevertales: Legends
by
Mad Head Games
  - September, 2015
Series links
:
Nevertales 1: The Beauty Within
,
Nevertales 2: Shattered Image
,
Nevertales 3: Smoke and Mirrors
,
Nevertales 4: Legends
,
Nevertales 5: Hidden Doorway
,
Nevertales 6: Forgotten Pages
Available at:
Big Fish as Collector's Edition / Standard Edition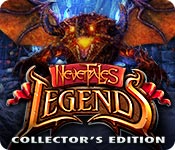 You and your husband were on opposite sides of a great war, but your love was strong enough to bring peace to the land. Now he finds himself suffering from a deadly illness, and you must race to find a way to save him. Set out on a grand adventure across the five kingdoms of your realm. But remember to stay on your guard – danger and treachery are hiding around every corner!


Save your royal family from destruction in the bonus game!


Replay HOPs and mini-games to earn stars and increase your score!




Find all the collectibles to unlock more challenging puzzles – and a secret level!




Get wallpapers, concept art, soundtrack, and more!




Access the helpful strategy guide