Whispered Legends: Tales of Middleport
by ? - May, 2014
Available at:
Big Fish
GameHouse
iWin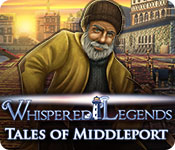 A darkness has fallen over the once sleepy seaside town of Middleport, and townspeople are mysteriously disappearing at an alarming rate! Reports of monster sightings, ghastly galleons and possessed artifacts have made their way to London and the newspapers claim the town is haunted by an ancient curse!
You've been summoned from London as an Inspector from the Royal Society of Skeptics to dispel the rumours that dark magic is afoot in Middleport. Uncover the true cause of the disturbances and track down the disappeared townspeople before darkness falls on Middleport forever!
Features:
-Gorgeus HD scenery and art
-More than 40 amazing hidden object scenes
-Variable Difficulty minigames for wicked fun!
-Travel back in time to 1868
Click images to enlarge

_

_

Last edited by genkicoll on Wed Jun 11, 2014 9:44 am; edited 1 time in total