Vampire Secrets: Eternal Love
by ? - April, 2013
Available at:
Big Fish for PC and Mac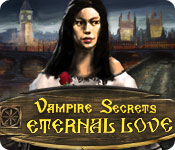 Embark on a mysterious journey taking you from London to the heart of Transylvania and investigate a series of nocturnal kidnappings bringing unrest to Eastern Europe. It's up to you to face these troubled times in search of your younger sister, Maria. Your investigation will lead you to Bran Castle, a place steeped in the myth of Count Dracula. Immerse yourself in an ancient vampire society in
Vampire Secrets: Eternal Love
!


Beautifully detailed artistic scenes

Concepts from an authentic Transylvanian studio

Engrossing gameplay with captivating atmosphere

Click images to enlarge

_

_