Viking Saga 2: New World
by Realore - February, 2014
Series links
: 
Viking Saga
,
Viking Saga 2: New World
,
Viking Saga: Epic Adventure
Available at:
Realore
Big Fish
GameHouse
iWin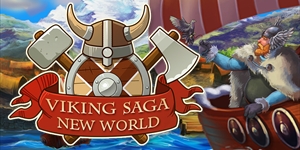 Enjoy the amazing sequel of Viking Saga - Viking Saga 2: New World!
Several years have passed since Ingolf became the king of Iceland. He married his beloved Dalla and they gave birth to two beautiful children. The lands of Ingolf prospered and grew. But one day a terrible danger came to the lands of the brave king. An unknown disease started to spread across the kingdom. To save his family and his people Ingolf will have to travel to the lands of the far west and find a cure!
Travel to the far lands of the west! Visit wondrous corners of the ancient world! Meet new interesting characters and learn their intriguing stories! Find a cure and save your kingdom!


Play 40 exciting and progressively challenging levels.

Build, repair, demolish, and upgrade buildings and ships.

Strategically mange resources to keep everyone fed and the mission moving forward.

Enjoy an absorbing storyline and a variety of mini-games.