Sherlock Holmes The Awakened
by Frogwares, 2006
Available from:
Frogwares
Big Fish for
PC
Steam in "
The Sherlock Holmes Collection
"
GamersGate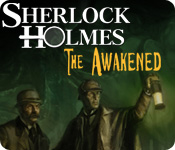 Big Fish description:
Travel the world and play as the world's greatest detective, Sherlock Holmes, and his faithful assistant, Dr. Watson. Investigate a mysterious series of disappearances and use your wits to track down a dark group of Cthulu-worshippers. Follow the clues and solve the mystery of
Sherlock Holmes: The Awakened
, while being fully immersed in this Adventure game.
Warning:
Sherlock Holmes: The Awakened
contains some graphic content and mentioning of the occult.


Interact with an entire world

Incredible Graphics

A dark mystery awaits

In-game Strategy Guide

Frogwares description:
In the third case, the famous detective Sherlock Holmes and his trusted assistant, Dr. Watson, are investigating a mysterious kidnapping case. Almost immediately, they are confronted by a formidable organization that worships a primal god, Cthulhu. This bloodthirsty sect seems to be ready to do anything in order to carry out its mysterious work against which only the great detective has the strength to fight. It is up to you to uncover the threat that is menacing humankind; it is up to you to stop the activities of this organization!
A story which melds Holmes' rationalism with H.P. Lovecraft's supernaturalism, "The Awakened" leads you from the undergrounds of London to the isolated summits of Switzerland, from the sweltering bayou
of New Orleans to the dense Scottish fog… Guaranteed thrills.
Click images to enlarge