Diner Dash
Find the series links in
THIS
thread
Available at:
Big Fish for
PC
and
Mac
Gamehouse
IWin
Wild
Tangent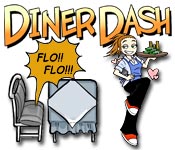 This action-puzzler serves up a build-your-restaurant-empire
theme and FUN is the special of the day! Serve your way from a two-table
diner to the top of the restaurant ladder, starting with a
run-of-the-mill greasy spoon. Work your way up to the top and earn your
dream restaurant. With more than 40 levels, a variety of customers, and
two modes of play, you'll feast on pure fun the whole way through. Order
up! Try this popular puzzler today!


Make it through four remodels.

Two gameplay modes.

Five different kinds of customers.

More than 40 levels of play.

Click images to enlarge