Aveyond 1: Rhen's Quest
Series threads:
Prequel: Ahriman's Prophecy
,
Aveyond 1: Rhen's Quest
,
Aveyond 2: Ean's Quest
,
Aveyond 3: Lord of Twilight
,
Aveyond 4: Gates of Night
,
Aveyond 5: The Lost Orb
,
Aveyond 6: The Darkthrop Prophecy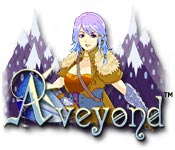 Available at:
Amaranthia
(support the developer!),
Big Fish
Fight monsters and explore a medieval world.
Aveyond
is
packed with more than 60 quests, tons of places to explore, and over 50
hours of game play. If you like games like Final Fantasy, Chrono
Trigger, and Dragon Warrior, you are going to love
Aveyond
.
A powerful deity, Ahriman, has opened the Demon Portal and dark
creatures now threaten the great isles. You must stop the destruction
and destroy Ahriman before it is too late. The Sword of Shadows is the
key to your redemption. You must find it in the mystical isle of
Aveyond
and use it to seal the Demon Portal and stop Ahriman.
Click images to enlarge



Last edited by genkicoll on Sun Jan 01, 2012 8:06 pm; edited 1 time in total