Delicious 12: Emily's Hopes and Fears
by
Blue Giraffe
/ GameHouse - June, 2015
Series index HERE
Available at:
Big Fish as
Collector's Edition
GameHouse as
Platinum Edition
/
iWin as
Platinum Edition
/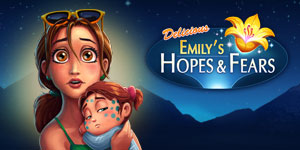 -
Check here the dedicated Delicious Help pages!
-
Click here for tips, tricks and walkthrough!
- Note that this game doesn't work with OS X Lion nor OS X Snow Leopard.
Delicious - Emily's Hopes and Fears Platinum Edition takes you on an adventure like no other before... During the hottest summer of the century, Paige fights to survive a mysterious disease. While Emily stays unwaveringly by her struggling daughter's side, Patrick embarks on an epic journey through the blistering cold in search of the only cure: a magical flower… Can he save his little girl?


dive into a moving story of love, trust, and family

explore 65 challenging yet curiously relaxing story levels, plus 32 extra challenges

complete challenges and achieve high scores to unlock presents for Paige

help Emily and Patrick through their greatest challenge yet