Art of Murder: FBI Confidential
Series links
:
(Adventures):
Art of Murder 1: FBI Confidential
,
Art of Murder 2: The Puppeteer
,
Art of Murder 3: Cards of Destiny
(IHOG's):
Art of Murder: Deadly Secrets
,
Art of Murder 5: Secret Files
Available at:
Adventure Shop
(also available in the
Art of Murder Collection
)
Big Fish for PC
Gamer's Gate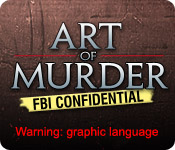 A series of strange murders in New York has drawn the
attention of FBI Agent Nicole Bonnet! Scour the gritty streets of Gotham
as Agent Bonnet, unraveling the clues to the uncanny crimes in this
thrilling Large File game. Follow the diabolical murderer`s trail across
sprawling cityscapes, ancient ruins and shadow-hewn jungle depths! Can
you piece together the sinister motive linking the crimes? Buy
Art of Murder: FBI Confidential
today and find out!


Warning: Graphic Language

Gritty, realistic graphics

High-quality video cut-scenes

Stop a demonic murderer!

Click images to enlarge