Dead Reckoning: Silvermoon Isle
by Eipix Entertainment - July, 2014
Series links
: 
Dead Reckoning 1: Silvermoon Isle
,
Dead Reckoning 2: Brassfield Manor
,
Dead Reckoning 3: The Crescent Case
Available at:
Big Fish as Collector's Edition / Standard Edition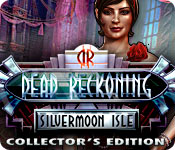 Silver-screen star Veronica West plummeted to her death from the top of a lighthouse on Silvermoon Isle. Was it an accident? A suicide? Or did someone at the party that night kill Veronica?
Solve the case using an innovative "deduction" feature that turns questioning suspects into a fun, interactive game!
The Collector's Edition includes:


A thrilling bonus game!

Extra hidden object and puzzle challenges

Wallpapers, music, concept art, and more!

Available Strategy Guide

For the Standard Edition


Walkthrough

Strategy Guide (Big Fish)

Click images to enlarge

_

_