Green City: Go South
by Melesta - July, 2014
Series links
:  
Green City
.
Green City 2
,
Green City: Go South
Available at:
Gamehouse
iWin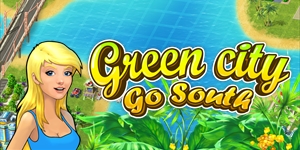 Build your version of paradise in the middle of the ocean with eco-friendly materials in Green City – Go South, an environmentally conscious time management game. Continue to expand your real estate empire with an eye on sustainability and renewable resources.
Promenades and other natural beauty features keep the people happy and your prestige up. Use recycled garbage, build generators and power plants. Turn the polluted offshore islands into a pleasure paradise for tourists and natives alike.
Apply green engineering principles to renew and repopulate areas damaged by oil derricks.


Build out a beautiful archipelago made of recycled materials.

Achieve 48 uniquely challenging missions in a picturesque ocean setting.

Thoughtfully develop the area with residential and commercial, ecological and energy-efficient structures.

Earn 25 awards for a variety of achievements.