Dracula 5: The Blood Legacy
by Koalabs / Microids - June, 2013
Series info
: Dracula 1: Resurrection, Dracula 2: The Last Sanctuary, Dracula 3: Path of the Dragon
*
,
Dracula 4: The Shadow of the Dragon
,
Dracula 5: The Blood Legacy
Available at:
GameHouse
GamersGate
GOG
 (bundled with Dracula 5)
iWin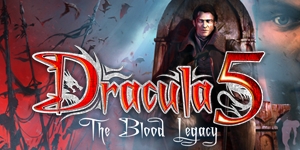 Is it just a painting or is it a living portrait? As Ellen Cross, art restorer for the Metropolitan Museum of Art in New York, continue to unravel the mysteries of the Vambrey collection in Dracula 5 – The Bloody Legacy, a chilling adventure game.
What is the Shadow of the Dragon and how does this mysterious order maintain its dominance over Count Dracula? Despite your failing health, you are driven to quest again to discover the truth and reveal the thief of a most intriguing Dracula portrait. Use your keen ability to spot clues and your abundant courage to face the threats along your journey to meet the Prince of Darkness.


Unique puzzles to solve

High Definition graphics and movies

Original interactive inventory system allowing you to combine and create new items

Captivating atmospheric sound effects and a spellbinding original soundtrack

Alternate ending

*Dracula 3: Path of the Dragon has now been separated into three parts
:


Dracula: The Strange Cases of Martha

Dracula: The Myth of the Vampire

Dracula The Destruction of the Evil

Last edited by genkicoll on Thu Apr 24, 2014 2:51 pm; edited 2 times in total