20,000 Leagues Under The Sea: Captain Nemo
by HdO
Available at:
Big Fish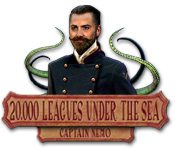 Professor Pierre Aronnax, his assistant Conseil, and the harpoonist Ned Land, have been captured by Captain Nemo, who travels the world's oceans on the infamous Nautilus. Although impressed by the beauty of the seabed, our three friends hope to escape and return to their lives on dry land. Help them escape from the Nautilus in 20,000 Leagues under the Sea, a fun Hidden Object game!


Fantastic gameplay

Incredible action

Escape from the Nautilus!

Click images to enlarge

_

_

_____________________________________
REVIEW:
In a Word - Weird **
BASED ON COMPLETED GAME
I tried to play this game three times and couldn't stand it enough to finish it. In previous reviews I panned it. But it's a year later and I gave it another go, and it surprised me. Can't say it's ever going to be my favourite, but it is interesting. It offers a dozen different ways to find hidden objects, has a few easy but different mini-games, and a different use of graphics. So I no longer regret buying it as a DD.
It is very short, though, and simplistic in its storyline, but it's ideal, I think, for those days where you really are over the standard HOPA fare, no matter how good, and want something easy, straightforward and above all different.
I don't recommend this game!
Last edited by JustTheFacts on Fri Sep 06, 2013 11:09 am; edited 3 times in total