Storm in a Teacup
by Kiss Ltd - July, 2013
Available at:
GameHouse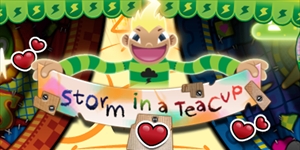 Join Storm on a magical adventure. Guide the teacup to jump and glide in a fun fantasy physics-based platformer game. Collect sugar cubes, keys, and stickers while avoiding menacing threats like sharks and dark clouds.
Storm's older brother Clouds has dreamed up a vivid and playful landscape through which Storm travels in his teacup. 50 levels of play give you lots of physics-based fantasy to explore. Add more difficulty by choosing Survival and Challenge modes.


Enjoy thoughtful and rewarding gameplay with physics-based challenges.

Choose from Original, Bonus, Survival, and Challenge modes as you unlock more levels.

Customize Storm's hair, clothes, and more.

Explore and discover 50 magically delightful levels.

Click images to enlarge