The Pianist
(2002)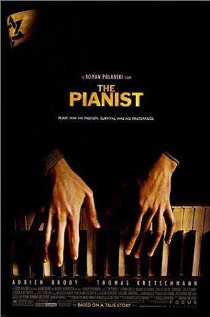 A Polish Jewish musician struggles to survive the destruction of the Warsaw ghetto of World War II.
~~~~~~~~~~~~~~~~~~~~~~
The official description is rather sparse, isn't it?
The Pianist follows the real-life story of Jewish Wladyslaw Szpilman (played by Adrian Brody), who lived through the Holocaust in Poland. The dehumanization that occurred during this period is forefront in the story, and as it should be... the atrocities and kindnesses that occurred in this time should not be ignored or forgotten.
What can be said about the movie itself? The sound quality is not as good as I would have liked, but the story is moving and well-acted. The destruction and devastation is purely evident, and the fact that the film is based on a true story makes it all the more poignant. I was very happy to see some follow up at the end of the movie.
Definitely worth seeing