Surface: The Noise She Couldn't Make
by Elephant Games
Series links
:
Surface 1: Mystery of Another World
,
Surface 2: The Noise She Couldn't Make
,
Surface 3: The Soaring City
,
Surface 4: The Pantheon
,
Surface 5: Reel Life
,
Surface 6: Game of Gods
,
Surface 7: Alone in the Mist
Available at:
Big Fish for PC as Collector's Edition / Standard Edition
iWin as Collector's Edition /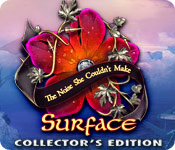 One day, on the side of a road, an unconscious girl was found. She had a knife with drops of blood but was not hurt herself. Is she a criminal or a victim? She can't tell her story because doctors are helpless and can't wake her. Some of them are sure that something mental is hindering the treatment.
To help with this desperate situation, a psychic comes to the hospital, and this is you. You are ready to get into the mind of the girl and find the answers to all the questions. You just need to remember that a person's mind is a dark and complicated place.
The
Collector's Edition
version of the game includes moving bonus content that delves into the girl's childhood story.


Earn achievements as you solve the mystery

Collect aura flowers and spend them in the store

Watch scenes from the game

Download wallpapers and soundtracks

Click images to enlarge

_

_

Last edited by genkicoll on Sat Jun 20, 2015 3:16 pm; edited 11 times in total