3 Stars of Destiny
by Aldorlea Games
Series links
:
3 Stars of Destiny
(prequel),
Laxius Force 1: Heroes of Destiny
,
Laxius Force 2: The Queen of Adretana
,
Laxius Force 3: The Last Stand
Available at:
Aldorlea Games (guide available, same page)
Amaranth
Big Fish
GameHouse (guide available HERE)
iWin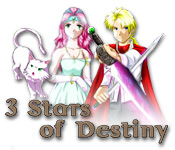 The evil orc Ozur has discovered some powerful energy that will make him completely and totally unstoppable! It's up to you to prevent Ozur from gathering this energy as you quest to the
3 Stars of Destiny
! Customize your character's abilities and skills in this exciting role-playing game. Explore mysterious lands as you travel far away from your home and finally confront Ozur. Can you stop his evil plan?


Play the Laxius stars in the early years!

60 hours of playing!

10 Legendary Heroes!

50 Quests!

Customizable characters

Immersive atmosphere

Save the world!

Strategy Guide (Big Fish)

Click images to enlarge

_

_