Legends of Solitaire: The Lost Cards
by The Revills Games - July, 2012
Series links
:
Legends of Solitaire 1: The Lost Cards
,
Legends of Solitaire 2: Curse of the Dragons
Available at:
Big Fish for
PC
and
Mac
GameHouse
iWin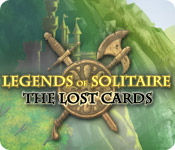 The House of Cards has disappeared and the Solitaire Kingdom is in ruins. Evil is now afoot and only you can find the Lost Cards. Play fun filled matches of Solitaire as you journey across the Solitaire Kingdom on the quest to find all the cards.


Exciting Solitaire fun

Colorful graphics

Find all the cards!

Click images to enlarge