Victim of Xen
by Smolders - March, 2012
Available at:
Amaranth
Big Fish for
PC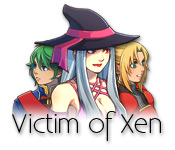 Warning: strong language.
In a stroke of bad luck, a witch has turned poor Will into a girl! Embark on a journey to find someone who can reverse the spell. And that is only the beginning.


Unique Story

Dynamic World

Can you reverse the spell?

Click on images to enlarge