Millennium - A New Hope

by Aldorlea Games
Series links
:
Millennium 1: A New Hope
,
Millennium 2: Take Me Higher
,
Millennium 3: Cry Wolf
,
Millennium 4: Beyond Sunset
Available at:
Aldorlea
Amaranth
Big Fish

iWin

Gamehouse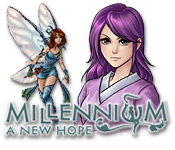 Travel back in time and learn how the city of Myst was able to overcome its humble beginnings and become a thriving kingdom in Millennium: A New Hope. Marine has decided to help her father challenge the rich of Myst, and bring on an era of change. Travel the countryside getting stronger and taking on the oppressive upper-class in this fast-paced Action game. Gather the strongest fighters you can and walk away victorious!


Unique gameplay

Quality soundtrack

Save the city of Myst!

Walkthrough (Big Fish)

Click images to enlarge

_

_