Delaware St. John: The Town with No Name
Series links
:
Delaware St. John 1: The Curse of Midnight Manor
,
Delaware St. John 2: The Town With No Name
,
Delaware St. John 3: The Seacliff Tragedy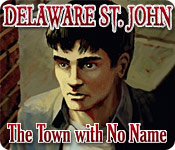 Available from:
Big Fish for
PC
Deep in the woods of northern Maine there lies a town, a town that has
never been recorded on any map. For twenty years the town has stood
vacant after all occupants vanished one fateful night. The voices have
called to Delaware and as he explores the Town with No Name he comes to
realize that the most important secret he's about to uncover is his
own. Explore a mysterious city in Delaware St. John – The Town with No
Name, a spooky Large File game.


Spooky atmosphere

Beautiful scenes

Explore the mysterious town!

Click images to enlarge