Deadly Sin 2: Shining Faith
by: Deadly Sin Studios
Series links
:
Deadly Sin 1
,
Deadly Sin 2: Shining Faith
Available at:
Deadly Sin Studios
Big Fish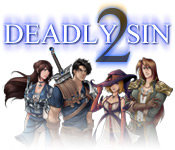 The heiress to the Empire has been kidnapped and you must save her. Living in the shadow of your father, whose heroism became the stuff of legends, you are an Imperial Soldier forging your own path. Step out of your father's shadow and face your destiny in this action-packed Strategy game. The doors of fate are cracked open, and you are thrust into the middle of a dangerous political plot in
Deadly Sin 2: Shining Faith
!


Fantastic gameplay

Exciting action

Help Carrion become a hero!

Click images to enlarge