Nancy Drew: The Captive Curse
by
Her Interactive
- June, 2011
Find the series links in
THIS
thread
Available at:
Her Interactive
Big Fish for
PC
and
Mac
GameHouse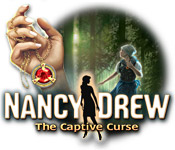 Escape the clutches of a legendary monster in
Nancy Drew: The Captive Curse
. A terrifying myth comes alive in Germany! Many years ago a monster stalked the German forest surrounding Castle Finster. According to locals and storytellers, the monster disappeared when it claimed a victim. Now everyone is frightened by the sights and sounds of something large stumbling through the darkness. Can you solve the mystery before the monster adds another chapter to this legend?


Play as Nancy Drew and explore a German castle

Uncover hidden rooms and secret passages

Discover captivating facts and local lore

Strategy Guide (Big Fish)

Click images to enlarge