Columbus: Ghost of the Mystery Stone
by: Vogat Interactive
Available at:
Big Fish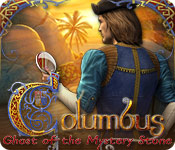 After crashing his ship, and being tossed overboard, Columbus sees a beautiful apparition reaching out to him. Waking up on a mysterious island, Columbus begins to explore his surroundings and stumbles upon ancient treasures and perplexing puzzles. Find important items that will help you move on in
Columbus: Ghost of the Mystery Stone
, a fun Hidden Object Puzzle Adventure game.


Gorgeous gameplay

Incredible artwork

Explore an island!

Click images to enlarge



Last edited by genkicoll on Mon Sep 17, 2012 2:30 pm; edited 1 time in total