Nancy Drew: The Haunting of Castle Malloy
by and available at
Her Interactive
Find the series links in
THIS
thread
Also available at:
Big Fish for
PC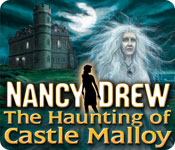 Mystery is afoot at Castle Malloy! A groom has disappeared and
the townsfolk are whispering of a malevolent banshee! Are ghosts to
blame, or is it merely a case of cold feet? Immerse yourself in the
haunted legend of the Emerald Isle, gathering clues and information from
the terror-stricken wedding guests. It's up to you and Nancy Drew to
unravel the mystery in this chilling adventure game.
Click images to enlarge