Dreamland

by: Nevosoft
Available at:
Awem
BFG for
PC
and
Mac
iWin
GameHouse
as
Extended Edition
for PC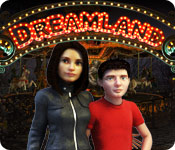 Welcome to Dreamland, an old abandoned
amusement park! It is full of dangerous traps and old run-down rides not
suitable for children. It also contains a terrible secret... There is
an evil dwarf that brightens up his miserable days by collecting the
souls of those who dare enter the neglected park. Explore the rundown
park and defeat the dwarf once and for all in this fun Hidden Object
Puzzle Adventure game!


Incredible storyline

Spooky atmosphere

Explore the amusement park!

Click images to enlarge