Caveman Physics
Available From:
BFG for
PC
GameHouse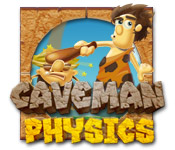 Solve puzzles using Caveman Physics!
Roll the stone wheel to disrupt your buddy's balance and teach him a
lesson in this hilarious Puzzle game! Place the objects in the perfect
spot to make sure the other caveman gets what's coming to him. With tons
of different solutions to each puzzle, and unique gameplay, Caveman Physics will keep you entertained for hours!


Incredible action

Fun gameplay

Use Caveman Physics

Click images to enlarge