Fluttabyes
by: Red Chain Games Ltd.
Available from BFG for
PC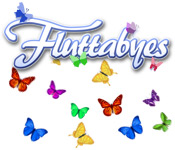 Help free the butterflies in
Fluttabyes
!
Create matches to earn a higher score and receive special bonuses in
this fun Match 3 game! Create combos, link matches, and take on multiple
modes in this exciting puzzle game. Use the special Rainbow Butterfly
and Ladybird bonuses to blast through the different levels and succeed!


Gripping gameplay

Exciting action

Free the butterflies!

Click images to enlarge