Zuma's Revenge Adventure
Series links
:
Zuma Deluxe
,
Zuma's Revenge Adventure
Available from:
Big Fish for
PC
GameHouse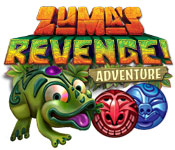 Survive a newly evolved world of Zuma where evil tiki bosses rule the land! Take on the tikis in Zuma's
Revenge – Adventure, a fun Marble Popper game. Conquer each level by
firing spheres to make matches, and defeat six imposing tiki bosses.
Leap from lily pad to lily pad and get the perfect shot! Avoid the
perilous pitfalls and guide your agile amphibian to victory using
awesome power-up balls and incredible bonuses.


Gripping gameplay

Brilliant boss battles

Leap into ball-blasting action


Click images to enlarge