Committed: Mystery at Shady Pines

by: Fugazo
Available:
Big Fish as
Standard Edition
for PC
Fugazo as Premium Edition  
Gamehouse as Premium Edition and Standard Edition for PC
iWin as Collector's Edition and Standard Edition for PC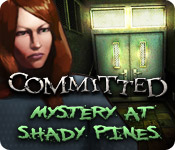 Committed: The Mystery at Shady Pines finds you strapped to a bed inside  of an abandoned hospital! Escape from Shady Pines
and save the other  patients! Explore the mysterious hospital and stop
the psychotic doctor  before it's too late in this incredible Hidden
Object Puzzle Adventure  game. Navigate terrifying twists and survive
special surprises as you  solve challenging minigames and uncover the
truth in Committed: The  Mystery at Shady Pines!  


Stop a psychotic doctor

Spooky hospital to explore

Escape from Shady Pines!

Walkthrough (Big Fish)

Click images to enlarge