Red Crow Mysteries: Legion
by: Cateia Games
Available from
BFG for
PC
/
MAC
iWin
GameHouse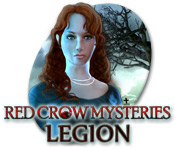 You have been chosen to defend all of mankind in
Red Crow Mysteries: Legion
! Stand up to a terrible evil and save humanity! Your extraordinary gift is also your biggest curse. The ability to see things others cannot is an unbelievable challenge and responsibility that you must now embrace in this incredible Hidden Object Puzzle Adventure game. Can you past the test and prove you are the one who will defend mankind when judgment day comes?


Use your incredible gift

Stand up to evil

Defend all of mankind!

Click images to enlarge