Grim Tales: Threads of Destiny
by Elephant Games - October, 2015
Series links
:  
Grim Tales 1: The Bride
,
Grim Tales 2: The Legacy
,
Grim Tales 3: The Wishes
,
Grim Tales 4: The Stone Queen
,
Grim Tales 5: Bloody Mary
,
Grim Tales 6: The Vengeance
,
Grim Tales 7: Color of Fright
,
Grim Tales 8: The Final Suspect
,
Grim Tales 9: Threads of Destiny
,
Grim Tales 10: The Heir
,
Grim Tales 11: Crimson Hollow
,
Grim Tales 12: Graywitch
,
Grim Tales 13: The White Lady
Available at
Big Fish as
Collector's Edition
/
Standard Edition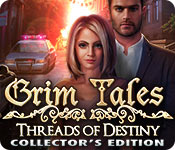 New evidence has come to light that will prove who killed Jackie's parents over 20 years ago. Now that you have something that belonged to them, you can travel back in time to discover what really happened that fateful night and try to save them from a dangerous serial killer. But beware; a dark force is watching your every move, and it is determined to keep you from changing their fates. You'll have to think quickly if you want to cheat Death and come back alive!


Can you save Jackie's parents from their destiny?

Survive Fate's ultimate challenge in the bonus game!

Find collectibles to construct the Grays' family tree!

View original concept art, wallpapers, music and more!

Unlock the Secret Room to replay your favorite hidden-object puzzles and mini-games!