Witches' Legacy: The City That Isn't There
by EleFun - January, 2017
Series links
: 
Witches' Legacy 1: The Charleston Curse
,
Witches' Legacy 2: Lair of the Witch Queen
,
Witches' Legacy 3: Hunter and the Hunted
,
Witches' Legacy 4: The Ties that Bind
,
Witches' Legacy 5: Slumbering Darkness
,
Witches' Legacy 6: The Dark Throne
,
Witches' Legacy 7: Awakening Darkness
,
Witches' Legacy 8: Dark Days to Come
,
Witches' Legacy 9: The City That Isn't There
,
Witches' Legacy 10: Covered by the Night
Available at:
Big Fish as
Collector's Edition
/
Standard Edition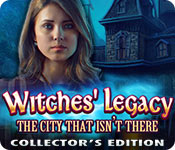 EleFun Games
proudly presents the newest addition to the
Witches' Legacy
series! Your mother has mysteriously gone missing while doing research for her new book, but how do you find a city that technically doesn't exist? Carefully trace her steps into a lost city that's filled with mysterious creatures. Team up with your ferret-shapeshifter friend Bertha to find your mother. Can you rescue her before it's too late, or will you become the city's next victim? Find out in this haunting hidden-object puzzle adventure!


Relive the Sallenvile tragedy through your ancestor's eyes.

Find hidden puzzle pieces and solve jigsaws to reveal characters bios and backstory.

Search for morphing objects, and earn a variety of achievements!

Feeling stuck? Reference the helpful strategy guide.

Features wallpapers, art gallery, soundtrack, and screensavers.