Spirit of the Ancient Forest
by
Shaman Games Studios
  - June, 2017
Available at:
Big Fish
GameHouse
(released June 29, 2017)
iWin
(released July 1, 2017)
Steam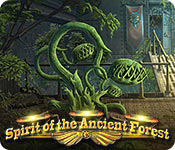 Learn the story of the Ancient Forest rescued from the Dark Lord!
After setting out on an exciting journey to the Ancient Forest, Sarah learns from a forest wizard that the Great Tree, which is the soul of the Ancient Forest, is in danger. The Dark Lord, with the help of his vassals, poisoned the heart of the Great Tree. Sarah and her friends must thwart the machinations of the Dark Lord and take the fight to his Citadel to save the Great Tree.


91 game levels

Exciting and colorful fictional world

Many different mechanics and game tools

Enjoy forest hidden object scenes and puzzles