Surface: Return to Another World
by Elephant Games - November, 2015
Series links
:
Surface 1: Mystery of Another World
,
Surface 2: The Noise She Couldn't Make
,
Surface 3: The Soaring City
,
Surface 4: The Pantheon
,
Surface 5: Reel Life
,
Surface 6: Game of Gods
,
Surface 7: Alone in the Mist
,
Surface 8: Return to Another World
,
Surface 9: Lost Tales
,
Surface 10: Virtual Detective
,
Surface 11: Strings of Fate
Available at:
Big Fish as Collector's Edition / Standard Edition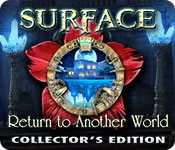 After receiving a worrying phone call from your mom, you return to your hometown of Lightfalls to investigate. But things aren't quite as you remembered them – a strange device has risen from the nearby lake, and it's causing the people of Lightfalls to disappear! A boy from your childhood seems to be behind it all, but can you stop his evil scheme before it's too late? Journey to the magical world beneath the lake and save your family in this exciting Hidden Object Puzzle Adventure!


Follow in the footsteps of royalty in a new bonus game adventure!

Collect hidden flowers and unlock achievements.

Find exotic creature collectibles and add them to your collection.

Access the comprehensive strategy guide.

Includes wallpapers, concept art, soundtrack, and more!

Big Fish Blog Walkthrough